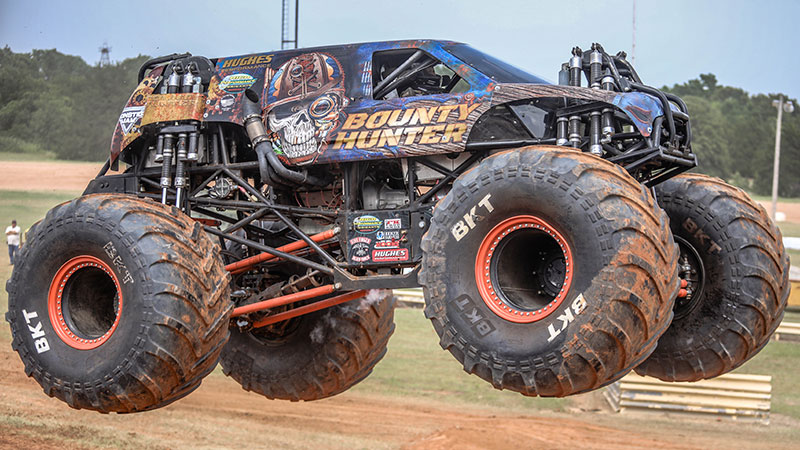 MONSTER TRUCK
Thursday & Friday at 7pm
Online Tickets $18
Tickets at the Fair $20
Children 35 months and under FREE
Fair admission ticket(s) required
No Strollers in the Grandstand
No Bags larger than 8" by 8" allowed in Grandstand
Website:   www.2xmonstertrucks.com
Facebook:  https://www.facebook.com/2XtremeRacing
PITY PARTY PASS
Thursday & Friday from 5:30pm–6:30pm
The 2xtreme Monster Trucks Live Show
The ultimate family friendly, affordable and action-packed event full of fun and excitement.
See two-time Monster Jam World Champion, Bounty Hunter take on some of the best in the business. Queen of monster trucks, Scarlet Bandit, Wheelie Master Jekyll & Hyde, High Flying Hot Tamale and more in this all-out side by side racing and car crushing freestyle Monster Truck Show.
Named team of the year 3 years in a row, family owned and operated, 2xtreme Monster Trucks is a first-class family show fielding some of the most popular, commercially recognized, and experienced Monster trucks and drivers in the in sport.
Focused on family friendly, interactive, and experienced based entertainment, this one- day show is so much more than just a monster truck show. Plenty of opportunities for young Monster Truck enthusiasts and adult fans to enjoy interactive entertainment including RIDES IN A FULL-SIZE MONSTER TRUCK, on site young gun racing for the kids in the Power Wheels youth race, and the chance to get up close and personal with the drivers at the pre-show meet and greet where fans can snap photos and score autographs from some of the biggest stars of today's Monster Truck scene.
Please visit our best sources for up-to-date event information and national tour schedule.
Website: www.2xmonstertrucks.com
Facebook: https://www.facebook.com/2XtremeRacing
A family owned and operated business headquartered in Tonganoxie, KS 2xtreme Monster Truck Racing Series has been entertaining fans for over 25 years. With the headliner trucks featured in Monster Jam for over a dozen years, the 2xtreme Monster Truck Live Tour now independently visits over 40 cities each year on their nationwide tour: performing for hundreds of thousands of fans all over the country. This year's tour incorporates newly added show elements including Blast from the Past Jet powered Truck, freestyle motocross stunt shows, and often includes two -30 foot high, fire breathing transforming monster robots at select events throughout the season.
YOU SHOULD KNOW…
Grandstand events may require an additional ticket
HSF Hours:
Thursday 5pm – 11pm*
Friday, Saturday & Sunday 8am -11pm*
Monday 8am-7pm*
*Circumstances, such as weather may require the fair to close early
MUST PRINT tickets and present at fair entrance
All tickets SALES ARE FINAL – Absolutely NO REFUNDS
HSF is not responsible for lost or stolen tickets
HSF operates RAIN or SHINE
No Firearms or Weapons
No Solicitation
All Vehicles, Persons and Belongings are subject to be searched
No Pets Allowed
Parking on fair grounds is FREE